Flowers

Birthday

Summer

Delivery

Occasions

Plants

Hampers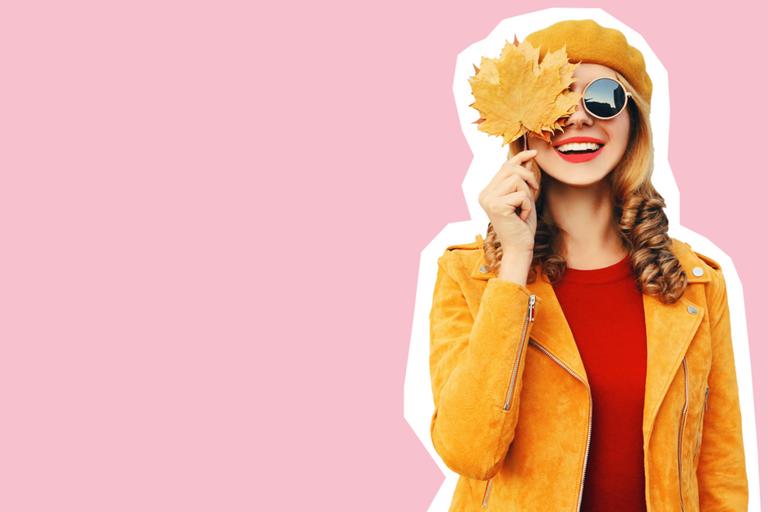 THE TOP 10
AUTUMN FLOWERING PLANTS
FOR YOUR HOME
Autumn offers lots of new and exciting choices when it comes to flowers, whether you're looking for seasonal bunches to jazz up your living room or have a few autumn birthdays to plan for.
We've rounded up 10 autumn flowering plants that will be in bloom during this later season that can be enjoyed inside and outside your home. Check them out below.
Flowers: Between midsummer and winter
Dahlias hail from Mexico and are the country's national flower, but have since become one of the most popular autumn flowering plants in the UK. Dahlias grow in a wide range of colours – in fact, they are available in almost every colour of the rainbow, except blue!
This colourful plant will keep going until the first frost and if you keep cutting them they will produce more and more blooms – which is great news for your home because dahlias are ideal for a beautiful indoor display.
Flying Flowers Fun Fact! Dahlias are the perfect choice for a bouquet to give to your partner over autumn as they symbolise commitment.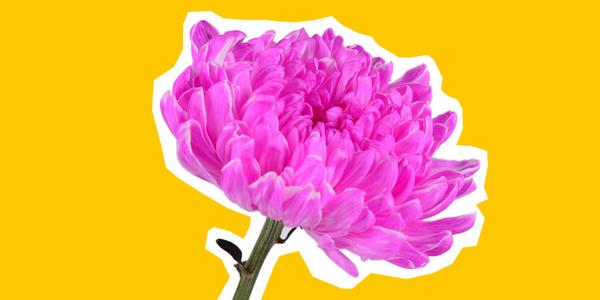 Flowers: September until October, but sometimes as late as November.
Chrysanthemums are one of the oldest species of flower, grown in China and Japan for thousands of years. The flowers come in a wide range of colours including classic autumn shades such as red, white and yellow and can range in size to create interest in bouquets.
Chrysanthemums symbolise happiness, health and friendship, which is why you'll find them in most flower arrangements. They are also the birth month flower for November babies - making a bunch of chrysanthemums perfect for an autumn birthday gift.
Flying Flowers Fun Fact! As well as sunflowers, chrysanthemums are said to be one of artist Van Gogh's favourite flowers and another one he loved to paint.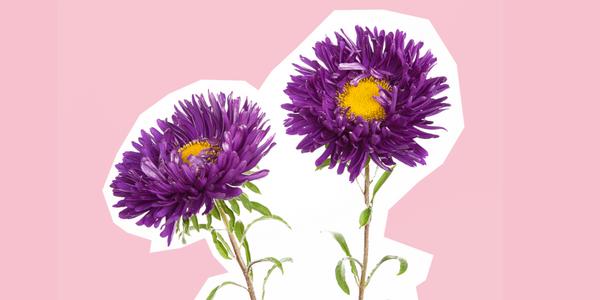 Flowers: Late summer and throughout autumn
Also named Michaelmas daisies, asters are shaped like those sweet flowers we associate with grassy lawns and daisy chains but grow in a varied range of colours and sizes. Asters are typically blue and lilac or purple with yellow centres, although you can find them in other colours, including pink and white. This flower symbolises love and commitment so are a great way of letting your partner know that you intend to stay with them forevermore.
They are easy to grow and care for, making them popular for autumn borders but are also ideal cut flowers for the home. Also, as the September birth month flower, they make a great autumnal birthday gift either in a bouquet or in a pot.
Flying Flowers Fun Fact! The name aster actually comes from the Latin word meaning star, due to the shape of the flower head.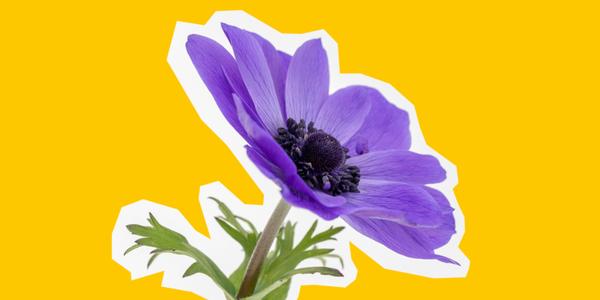 Flowers: August until October
Anemones are elegant, tall flowers that can grow higher than 75cm and are pretty eye catching in a small bouquet. The slender stems are usually topped with white blooms although they can also grow in shades of pink, lilac, purple and cream too.
You may have also heard this flower referred to as windflower – maybe you've grown some yourself on Animal Crossing island lately? – and it gets this name because of the delicate petals that dance in the breeze. These flowers look simply beautiful in autumnal arrangements, with the soft pinks and whites perfectly complementing colour palettes of reds, oranges and yellows.
Flying Flowers Fun Fact! Anemones are perennials. That means if you have them in the garden, the flower will come back with little effort on your part for at least two years. We love a low maintenance plant!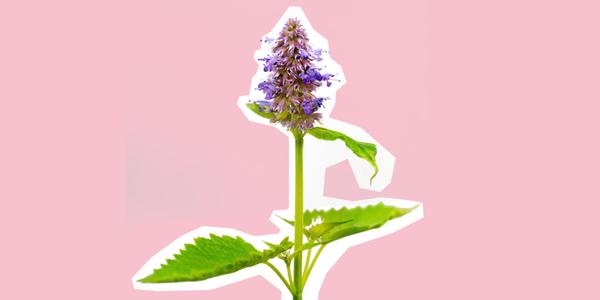 Flowers: From July right through until October
'Blue Fortune' displays stunning violet and blue flowers that bloom in tiers on a spike-shaped plant. What's particularly interesting and unique about this plant is that the green leaves boast a peppermint scent that smells delicious every time you walk past it. Plus, this plant attracts bees and butterflies, so you may be able to spot them regularly fluttering around it too.
Did you know there is also a 'Red Fortune' which has flowers in a deep pink colour? Whichever you choose – and if you're looking for autumnal shades, Red Fortune may be the better choice – these unusual blooms look incredible when cut and featured in a tall vase on the dining table or mantlepiece.
Flying Flowers Fun Fact! 'Red Fortune' has leaves that smell of aniseed rather than peppermint! Tasty.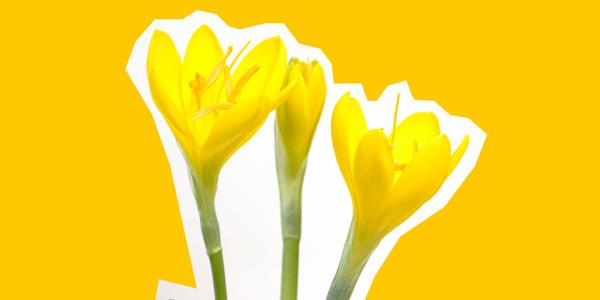 Flowers: September to November
You know spring is here when the daffodils start to bloom. They're certainly one of our favourites! The bright yellow flowers add a much-needed splash of colour that brightens up the space and lifts your mood.
But, did you know you don't need to wait until spring to see them? The Sternbergia is known as the autumn or winter daffodil. It is from the same family as the daffodil and produces a very similar single flower with petals in a goblet shape above dark green leaves.
These autumn and winter flowering plants can be cut and popped in a pretty vase, offering a little ray of sunshine among a palette of autumn colours.
Flying Flowers Fun Fact! Daffodils – whether they're spring or winter types – should always be given in a bunch. A single daffodil is said to bring misfortune! We wouldn't risk it.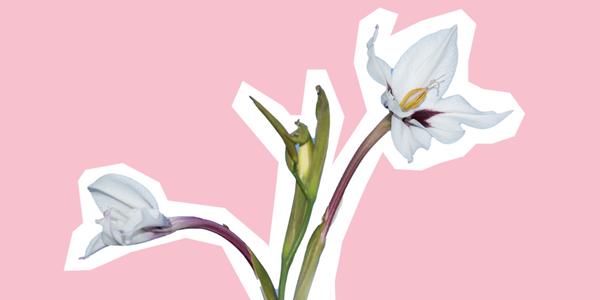 Flowers: August until October
We love gladiolus with its beautiful shades of white and maroon and its unusual drooping shape.
Although they begin to bloom during the summer, it's during September that they truly shine - just in time for autumn Not only do they look fabulous but they smell great too, filling your home with the most incredible scent should you decide to feature them – and we highly recommend you do!
Flying Flowers Fun Fact! Gladiolus looks a little sad, with its droopy flowers, but it loves the sunshine so if you have it outside ensure it's in a sunny spot.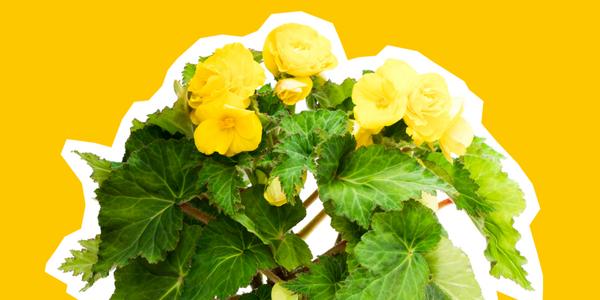 Flowers: From May until November
Begonias are the perfect flower for an autumnal garden. They'll add a splash of bright colour to your outdoor space and will last all through autumn right until the first frost in November.
While they're a popular choice for hanging baskets and flowerbeds, you can also take cuttings and feature these in small bottles and vases to add a splash of colour to your home.
Look out for the variety 'Fragrant Falls' which as the name would suggest, smells great. Not only are they easy to care for, keep them near the door and you'll be greeted with your fragrance as you enter and exit your home.
Flying Flowers Fun Fact! Did you know, tuberous begonia petals are also edible? Perfect for decorating a cheesecake or adding some colour to a salad! We'll see you in the Bake Off tent soon.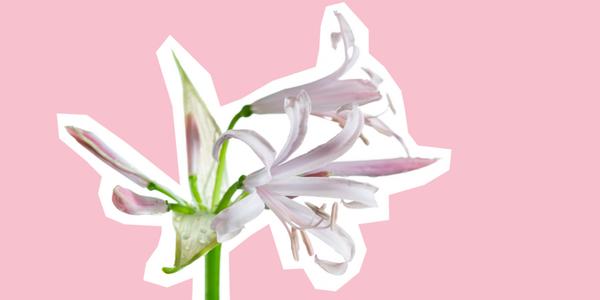 Flowers: From September or sometimes slightly later. There are a whopping 26 species of this South African flower - although bowdenii and sarniensis are the most common.
The flowers are typically a cerise pink although they can also be red or white - which is perfect if you want to brighten up your home and add a burst of colour on a cold autumnal day.
The lily-like flowers are long-lasting blooms - the first leaves appear in spring, these then disappear during the hot summer months and are eventually replaced by flowers just in time for autumn. Not only are they perfect for borders and containers, but they also make great cut flowers to feature in a vase or jar.
Flying Flowers Fun Fact! How these flowers came to grow on the island of Guernsey is a mystery. Some say they washed up on the shore from a shipwreck while others say they floated all the way across the ocean from South Africa. No one knows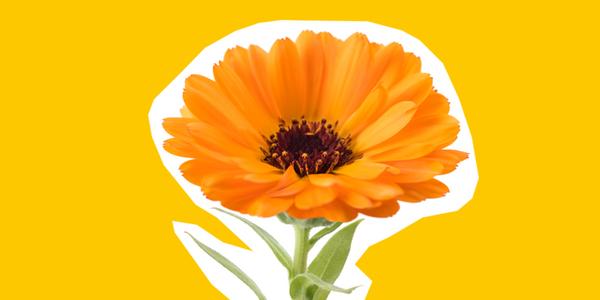 Flower: From summer right through to autumn
You can't get much more autumnal than the marigold - it's colour alone, a bright orangey-yellow is the epitome of this season and would fit perfectly in a Halloween display. The flower also has ties to another spooky festival, Mexico's Day of the Dead. Marigold petals are sprinkled in graveyards and around ofrendas, to lead the spirits that rise back home to enjoy their offerings.
The marigold, which originated in Mexico, is the birth month flower for October and the daisy-like flowerheads have a lovely scent - making them the perfect gift. The name marigold actually means 'golden flower' and its vibrant colouring lasts right through until the beginning of winter.
Flying Flowers Fun Fact! Did you know that, like the begonia, the petals from marigolds are also edible? Perfect for finishing off your Halloween bake or an autumnal cake.
Add to your Autumn display, both indoors and outdoors with these beautiful flowers that will bloom towards the end of the year. In the meantime, why not take a look at our glorious bunches of flowers and treat yourself or a loved one?