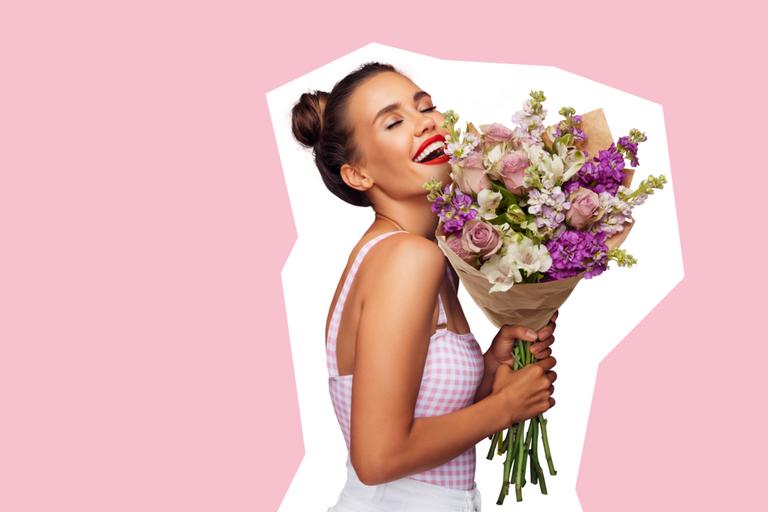 10 Gifts For
The Woman Who
Has Everything
Whether you want to brighten up her day, need to say thank you, or have a birthday coming up, choosing a gift for the women who has everything can be a daunting task – but it doesn't have to be. Discover our top picks for the best gift ideas for women and find a unique gift that'll put a smile on her face.
OUR FAVOURITE GIFTS FOR THE WOMAN WHO HAS EVERYTHING
MONTHLY FLOWER SUBSCRIPTION
Getting a new bouquet of flowers is a great feeling, so why not extend the happiness and gift a monthly subscription of flowers. Every month, a new bouquet will arrive at her doorstep – perfect for the woman who loves to be around nature and fill her home with colour.
You can choose from three, six or a 12-month subscription, so you can find something that works for your budget. Our bunches are always seasonal so they'll get something different each time – perfect!
CHOOSE YOUR FLOWER SUBSCRIPTION
HOMEMADE PRESSED FLOWERS SCRAPBOOK
Pressing flowers is an artform that has been around for centuries, and was even used in the Victorian era to preserve a beautiful memory between the pages of a book.
Take some flowers, perhaps a pretty blossom from a bouquet you have at home, and repurpose them by placing them in some parchment paper and pressing between some heavy books. Lightly stick down your pressed flowers in a handmade scrapbook filled with photos of you both together for a gift as elegant as she is.
Find out more tips for recycling old bouquets.

Windowsill planters are a great way to liven up a home if there isn't much outdoor space and you want to keep your house bright and green. If your lucky lady doesn't have the biggest garden, this could be the gift for her.
Throw in some herb seeds if she's a cooking enthusiast, or maybe some wildflower seeds for a colourful surprise of wild bloomers. Window boxes can come in all shapes and sizes, so pick a planter that matches her style.
HANDMADE FLORAL RESIN JEWELLERY

Preserve her favourite flowers in all their glory by casting them in resin and adding them to a necklace, ring, or pair of earrings. Pressed flowers in clear resin are particularly beautiful because the flowers retain their full colour, so pick something bright and colourful to immortalise your chosen flowers in a piece of jewellery she can treasure.
You can use any flower you like, as long as it has completely dried before you add the resin. Some fabulous flower ideas include:
Buttercups
Daises
Red roses
Cherry blossom.
Home resin kits like this one are widely available online, so why not roll up your sleeves and get your craft on.

Bringing it back to the classics, a bunch of flowers is one of the simplest yet most beautiful ways to spread joy. From a bunch of romantic red roses to some sunny peonies, it's the perfect gift for the woman who has everything.
If you won't be seeing your 'giftee' in person, you can get your flowers delivered straight through the letterbox. Choose from a wide range of natural beauties that suit every occasion. Why not throw in some choccies to top things off?

Whether you want to build your own or pick something special from a range of ready-to-go ones, hampers are an ideal gift for the woman who has everything. Find a theme that suits her and go from there. For the sweet-toothed person, there's chocolate and sweet treat hampers or perhaps she'd fancy based on her favourite tipple instead?

If she's a little arty and loves to make things herself, a flower wreath workshop could be just the ticket. Give the gift of bragging so she can say "thanks I made it myself" whenever anyone asks where she got her wonderful wreath.
No matter her skill level, there are workshops out there for all abilities, and they are a great opportunity to have some fun and learn more about plants and flowers.

House plants can be enjoyed for years and make a great addition to any indoor space. Not only are .
Some house plant gift ideas for her could include:
Peace lily – these fare well even in lower light conditions.
Snake plant – have great air purification properties.
Spider plant – are non-toxic for animals and fairly resilient.

If you're looking for a unique gift for a woman with a bit of flair, send them on a bouquet making course. There are workshops and classes across the UK, so find one that you think she'll like the most, from flower arranging for total beginners, to impressive bridal bouquet courses.
These are especially fun if you have special occasion or wedding coming up, where she could put her newfound skills to good use.
A GIFT FOR THE BEES (AND HER)

Planting bee-friendly flowers has really taken off in recent years. A pack of wildflower seeds could transform her garden, border or planter into a mini wildlife haven.
If you're not sure which to pick, discover the . A mixed packet of wildflower seeds is a fun surprise too, and we've created a handy guide on how to build a wildflower planter.
Unlike honeybees or bumblebees, the UK's large population of solitary bees don't live in hives, but instead make their own individual nests. A bee hotel can provide much needed shelter for our bee friends and provide long-term housing for solitary bee eggs to grow. Make a bee home yourself with some hollow sticks or bamboo, or find a bee hotel online and get it personalised for your nature loving friend.
When it comes to picking a unique gift for her, think outside of the box and don't be afraid to get creative. Flower-related gift ideas will always go down a treat because they're so unique and personal. If you're looking for gift ideas for a special occasion, explore the best gifts for every occasion in our helpful guide.