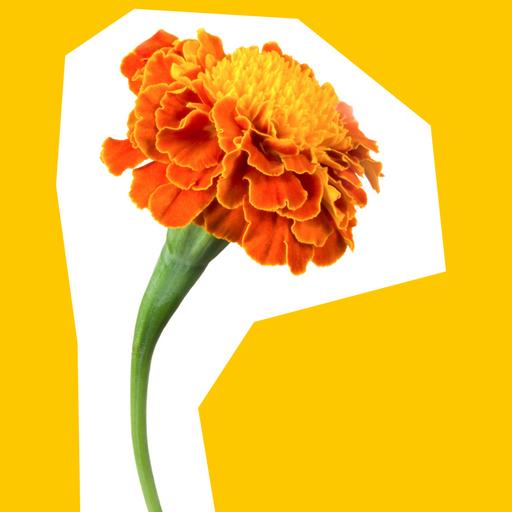 Heard of a birth month flower? We don't speak about this one as much as star signs or birth gems, but they are in fact a tradition that dates back as far as the Roman Empire - it's actually thanks to the Romans that birthdays were first celebrated. As part of the celebrations, they would decorate the altars of gods with gorgeous flowers. As the trend developed, different nations chose different blooms depending on the growing season for their country. Over time, the list has evolved to create the common birth flowers we have today.
So, what does the month of October have in store for us? This is the month when the nights get darker and we get a spooky trick or treat at Halloween. Leaves on the trees are turning a gorgeous mix of reds, oranges and browns and we have some amazing autumn flowers to brighten up our days.
Now we've set the scene, here's all you need to know about the October birth flower.
What is the birth flower for October?
When it comes to birth flowers for October, you have a choice of two - the fiery colours of marigolds or the sun-loving cosmos.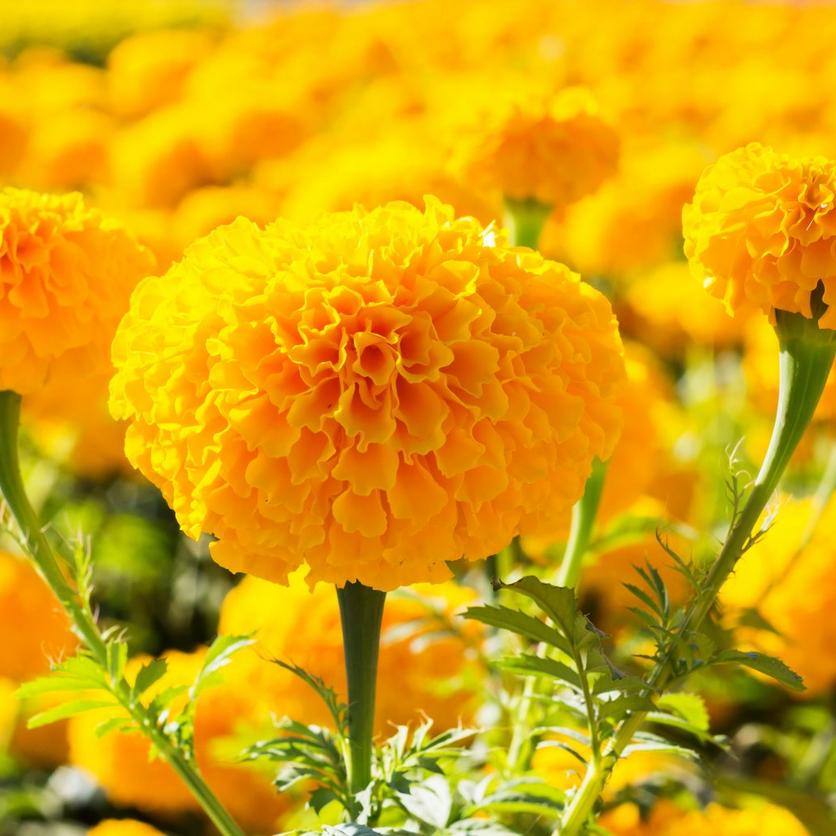 When talking about marigolds, the clue is in the name. Originally you could only get this flower in a warming gold colour, which came in quite useful when it came to worshipping the Virgin Mary. If you didn't have enough money to place gold coins at her altar you could instead choose the flowers of marigolds. Very quickly the flower earned its name from two old English words – Mary and Golde. Don't worry if you're after a brighter colour, the flower has been developed and you can also get it in white, yellow and red varieties too, even though traditional golden orange colour is still one of the most common choices today.
This flower has certainly been a useful bloom over the centuries. Marigolds have antiseptic, anti-inflammatory and antioxidant properties, where extracts from the flower have been used on rashes, wounds and burns. Not only is it powerful, but it is edible too! It's no wonder the famous herbalist of 1653, Nicholas Culpepper, called Marigolds a 'herb of the sun'.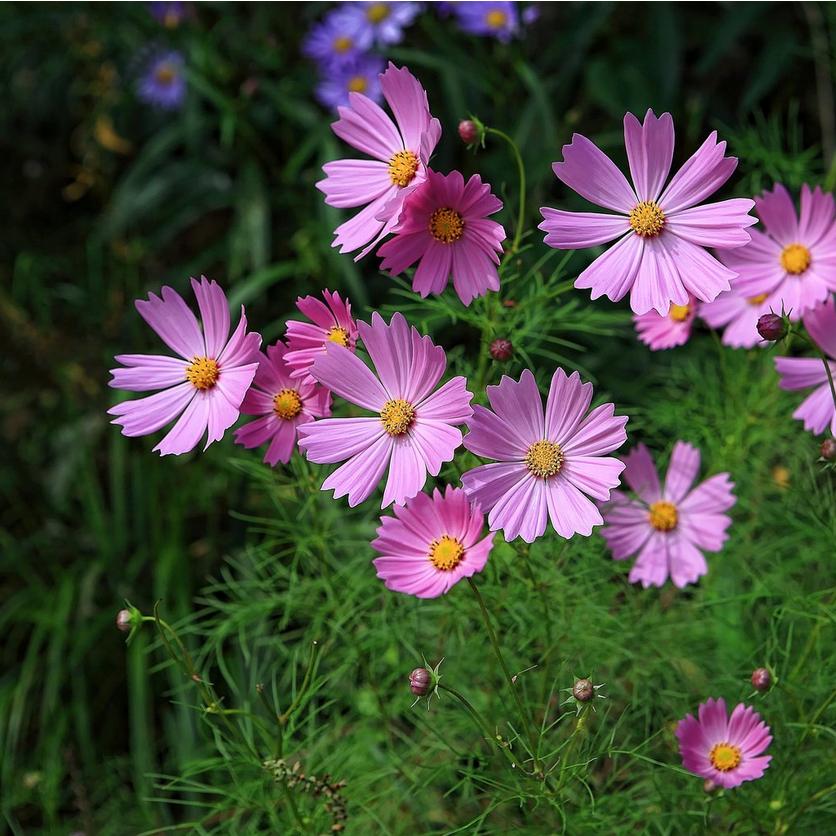 Now on to our next October birth month flower - cosmos. With their mass of feathery leaves and open daisy-like flowers, cosmos bring a joy of colour to any vase or garden, with varieties that will bloom from May all the way through to October. It doesn't stop there, this flower delivers a range of colours from gorgeous oranges and reds to happy yellows, zingy pink or purple, or you can also get it in white for something a bit more relaxed.
It was the Aztecs in Mexico who first discovered the flower. This one was useful to them because of its medicinal purpose – they considered it a sacred plant. It was during the 16th Century this one finally hit European shores when Spanish explorers brought the wildflower back to Madrid. In fact, we can thank the Spanish priests for giving it the name we now know. You see, the petals on the flower were so evenly arranged that they went for Cosmos which is the Greek for 'ordered universe of harmony'. When it first arrived on UK shores in the late 1700s, this poor flower couldn't cope very well with our cold environment. Fortunately, some clever people stepped in and cultivated the plant to create the gorgeous cosmos we have today.
Meaning behind the October birth flower
Ready to pop some birth flowers into a birthday bouquet fit for someone celebrating their birthday in October? Have a look and see which one best matches their personality.
Most people born in October fall under the Libra star sign. Just like the gorgeous cosmos, which symbolises order and peace, they love everything balanced and tranquil (scales are the symbol for Libra). The beautiful colour and fragrance of this flower mean it is also known for its peacefulness – perfect if they positively run away from arguments.
It's a good job that one of their other strengths is the ability to charm the pants off everyone. That's why you'd have to add some marigolds to the bouquet – these ones are all about warmth, happiness and joy. We also associate marigolds with strong emotions like determination, good luck and wealth - it probably has a lot to do with the flowers being survivors as they can last throughout the colder autumn months. They are also a perfect choice if you need a bouquet for a born leader. A bit like those whose birthday is in late October, they are ambitious, confident and live life at full intensity.
People born later in the month tend to find it harder to trust people, they really want to get to know a person inside and out. But once there, whether they are a partner or a friend, just like the white cosmos they are devoted to them. Consider popping in some cosmos in yellow for your besties – they're all about friendship.
Anyone born in October is good under pressure which is largely down to the fact that they can find the good in most situations. So add in some yellow marigolds – they're all about optimism, good luck and happy thoughts, and some of these flowers in orange which are all about positivity.

October flower names
Fancy picking a flower-themed name for a baby born in October? Well, you could always go with the birth month flower and choose Marigold or Mary. Like a lot of old-fashioned names, Mary has been dropping out of popularity over the last 70 years despite at one time (around 1914) being the most popular name in the country. Marigold, on the other hand, has been making a bit of a comeback in recent years.
Take inspiration from the other birth flower and go with Cosmo - a perfect choice for either a boy or a girl, this is another one that is growing in popularity.
Another incredibly unusual choice is Rudbeckia. This autumn flower is almost daisy-like in appearance with wide, open petals in seasonal shades of yellow, orange and red. This name means eternal happiness (a bit like this beautiful flower). If you fancy playing it a bit safer, you could also choose the last part of the name and go with Beckia or Becky. This one has been dropping out of popularity over the last 30 years – maybe it's time for a revival.
A beautiful and slightly unusual choice could also be Anemone. Depending on the variety you choose, this flower brightens up your vase with its delicate flowers from spring all the way through to October. This delicate name comes from the Greek for 'windflower', as the blooms open with some help from the wind. Gorgeous!
Want to find out what blooms represent your birthday? Head over to our handy guide which lists all birth month flowers for every month.

Send birthday celebrations through the post with our fabulous range of birthday flower bouquets, perfect for an October birthday.