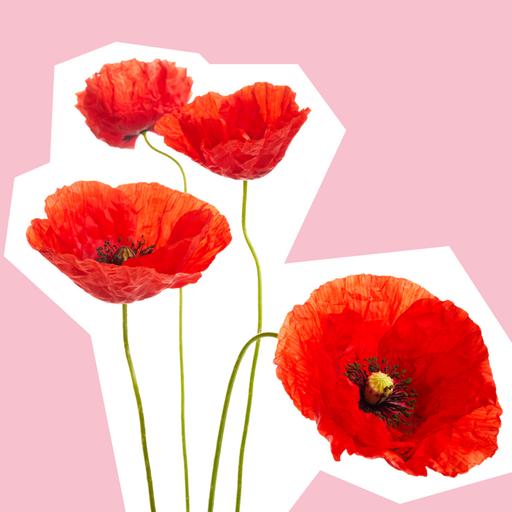 Whether you recognise these flowers growing across the countryside over the summer months or worn with pride on Remembrance Day, there is no mistaking the poppy. Despite their fragile, almost tissue-like petals, this beautiful cup-shaped flower has had an adventurous journey through some big, historical events.
In this ultimate guide, we'll explain all about the amazing poppy, the meaning behind this flower and some of the best varieties to get your hands on (spoiler alert: not all poppies are red!).
Meaning associated with poppies
Throughout history, the poppy has been a useful flower to have around. Since ancient times, extracts from the flower have been used for medicinal purposes - sometimes used a painkiller, as a sedative (like Dorothy in the Wizard of Oz) or even for treating catarrh and coughs. In particular, poppies were in great demand during the First World War to treat wounded soldiers thanks to the opioid effect for treating pain. With a history like this, it's unsurprising that this flower used to be associated with restful sleep and recovery.
Nowadays, the meanings associated with poppies have changed. The most well-known colour of poppy, the red poppy, is all about remembrance and hope. However, you can also get this flower in orange, yellow, white and purple each with its own meaning.
The poppy is also the birth month flower for August, so consider sending a bouquet of these blooms if you know someone celebrating their birthday in this month.
Poppies for Remembrance Day
Red poppies are iconic when it comes to Remembrance Day. But did you know that there are two different events marked in November? Every year on the 11th at 11 am we stand silent for two minutes to remember Armistice Day. This day marks the moment in 1918 when an agreement began that would end the fighting of the First World War.
Remembrance Sunday follows Armistice Day, falling on the Sunday closest to 11th November, where services of Remembrance are held up and down the country. For a moment we stand together and remember all those who have fought and died in wars and other military conflicts. The largest National Service of Remembrance is held at the Cenotaph in London and is the one attended by the Royal Family.
So, how did the poppy get involved? Shortly after the end of World War I, the poppy flower was the first flower to appear amongst the fields of mud, covering them with a gorgeous haze of red.

Why do we wear poppies?
How did the poppies in the field turn into the badge we wear on Remembrance Day? It all started with a Canadian doctor called Lieutenant Colonel John McCrae. Shortly after losing a friend in Ypres in 1915, Lieutenant Colonel John McCrae was so moved by the sight of a field of poppies he was inspired to write the now-famous poem 'In Flanders Fields'.
After the war ended, an American academic called Moina Michael came across the poem. She was so moved by the words she started a campaign to get the poppy adopted as a symbol of Remembrance. By 1921 she had convinced the American Legion Auxiliary to adopt it as their symbol.
A French woman called Anna Guerin was so inspired by the work of Moira that she took the idea of a poppy for remembrance back to Europe. In 1921 Anna set off for London to convince the newly formed British Legion to adopt the poppy symbol and use it as an emblem to raise funds.
It didn't take long for Anna to convince Earl Haig, the founder of the Royal British Legion, to start a Poppy Day. The first one was held on 11th November 1921. It became an immediate success with the nine million poppies they had made selling out.
Jump forward 100 years and the campaign is still strong, with a staggering 40 million poppies being distributed each year.
How to wear a poppy
When it comes to the matter of how to wear your poppy, there is some confusion. Some say the leaf on the poppy should point to 11 o'clock, while others believe that the poppy should sit on the left side of your body. This one probably has links to the fact that serving forces wear their medals on their left lapel.
Adding even further to the confusion, many ask why the royal family wear three poppies. The truth is, they don't. If we take a look at the Princess of Wales, the number of poppies she wears changes each year - sometimes it's a single flower, sometimes a group of three and one year she wore the Codebreakers brooch.
Despite these different theories, we're going to take our advice from the Royal British Legion. They say there is no single right or wrong way to wear a poppy, how you decide to wear it is ultimately up to you. All they ask is that you wear it with pride and gratitude. I think we can all agree to do just that.

Tower of London poppies
When it comes to impact, nothing could have been more dramatic than the major art installation held at the Tower of London in 2014. Called Blood Swept Lands and Seas of Red, the display marked 100 years since Britain's first full day of involvement in WWI. Paul Cummins and Tom Piper created the artwork which featured 888,246 hand-made ceramic poppies, with each poppy representing a British military fatality during the war.
What made this display even more poignant was the fact the poppies were slowly added each day. Starting in July 2014, the final flower was laid on Remembrance Day to create a display of flowers that encircled the Tower.
When the UK tour finished, the ceramic flowers were sold off. A total of £9m was raised and given to six military service charities.

Types of poppy
Now there is no mistaking the red poppy used on Remembrance Day. This one is the Flanders, Common or even Field Poppy. It's the one we commonly see growing across the cornfields in the countryside between May and October. Farmers do not like these flowers (they're agricultural weeds), but bees love them. Now, before you say it, bees can't see red, so why do they love these poppies? It's because this bloom delivers a strong UV light (which they can see) and fragrant pollen they adore.
If you're looking for a poppy that isn't red, you'd need to find varieties like the magnificent Alpine, Welsh and Arctic Poppy. With these ones, you'll get a real pop of colour. These little wildflowers are shorter in height and deliver a mass of sparkling yellow, orange, red and even white flowers – a sight to behold over the summer months. Even better, yellow poppies are all about optimism, perfect for sending a bunch and brightening up someone's day. Or go with the orange and they're all about health. Why not send a bouquet if you know someone who has been ill recently? The perfect way to cheer them up and make them feel better.
If you want to go with an unusual colour, you could always opt for the Himalayan Poppy. This one is a bit of a rarity in the flower world because it's a blue bloom. If you manage to get your hands on this one, you're going to need a lot of knowledge. Blue poppies are very hard to grow but if successful, they are magnificent.
If it's a bit of drama you're looking for, you would have to go with the Oriental Poppy. This group are the most popular poppies to grow, probably because of the large, showy flowers available in a range of gorgeous colours. You could go with the stunning Royal Wedding which has white, ruffled petals with a dark purple centre. This one would be perfect to include in a christening or new baby bouquet – it's all about innocence and purity. If you were looking for that perfect gift for a close friend, get yourself some Aglaja. These bowl-shaped flowers are the most gorgeous salmon pink (it represents compassion and platonic love) with red at the base of the petals.

How to care for cut poppies
If you've been lucky enough to receive a stunning bouquet of poppies, you're in for a real treat. These flowers look simply amazing, bunched together in your vase. However, with a flower that looks so delicate, they will need some extra care to keep them looking their best for as long as possible.
The first thing you need to do is to find yourself a clean vase that supports the delicate stems. Take your poppy and strip off any leaves that sit beneath the water line. Next, cut the stem at an angle with a sharp pair of scissors or secateurs. Cutting at a 45 degree angle is important because it stops the stem from resting on the bottom of the vase and enables it to drink up water.
Now, the next step is a bit unusual. You're going to take your stem and put it into boiling water. I know, it feels like we're telling you to cook your flower! Don't worry, there is a very good reason for this. You see poppies have milky stems and boiling the ends seals in the latex within the stem. This helps the poppy retain its own moisture. The poppy flower will still be able to drink up water, but the process helps to deliver brighter flowers that last longer.
Fill your vase up with warm water and pop in your poppies. Remember to change the water daily and keep it out of direct sunlight.
Are poppies toxic to pets?
Throughout history, this plant has been useful for medicinal purposes. Even today, they are regularly useful in cooking, from poppy seeds often used as toppings on baked items like bread, bagels and even cakes.
When it comes to our pets, it's not such good news. All parts of the poppy can be harmful to both cats and dogs. The poppy contains alkaloids morphine and codeine which will poison your pets. Symptoms can include trembling, pinpoint pupils, lack of appetite and sedation. If your pet has eaten some poppy flowers, you should take them to a vet immediately.

Whether you are choosing the poppy to show your support on Remembrance Day or looking for a poppy flower variety to add to your vase, we've got a flower perfect for every occasion.