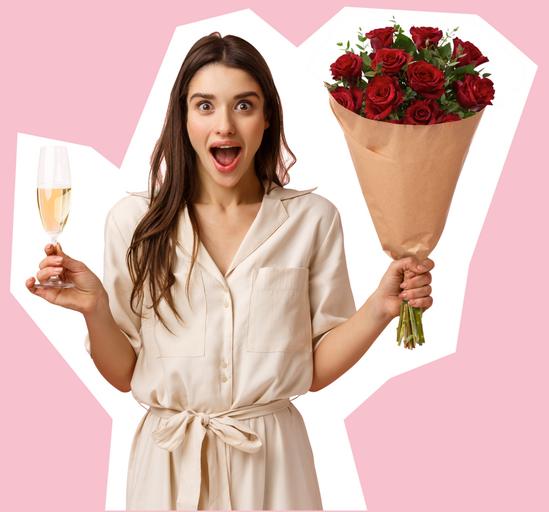 There's no escaping it, February is the month of love – there's even a whole day dedicated to celebrating love on 14th February, it's Valentine's Day!
What better way to get yourself in the mood than by adding a little sparkle of Valentine's Day decorations to your home. It'll give you the perfect excuse to cuddle up and get all cosy!
Keep it simple and introduce some gorgeous craft items you've made yourself or make a grand gesture and decorate every room in a haze of love and gorgeous roses. Whatever your style, here are some simple Valentine's Day décor ideas to try out.
VALENTINE'S DECORATIONS FOR YOUR HOME

Adding a touch of romance to every room in your house is really easy. Start by setting the right mood, introduce soft lights, get the candles lit and put on those romantic tunes. You can really add to those perfect vibes by introducing shades of reds and pinks all brought together with a golden touch.
Then transform your home into a sea of romance with an abundance of roses and heart decorations – after all, these are the universal symbol of love. As far as we're concerned the more the merrier - from a table scattered with hundreds of hearts to flowers spread all over the home.
Valentine's Decorations for your dining room
We're not going to lie; Valentine's Day does seem to centre around food. They always say the way to someone's heart is through their stomach, right?

Why not start with some stunning Valentine's table decorations that will be fitting for a King and Queen's banquet. Get the basics right by adding a tablecloth and then cover with candles of every shape and size – it will provide the perfect mood lighting. Then add your choice of flowers for the perfect finishing touch. Choose one vase in the centre or have a row of small posy vases running down the table and then fill with some beautiful tulips, carnations and ranunculus, finished off with some delicious wax flower.
You can also bring in some fabulous fun touches by creating Valentine-themed food such as steamed rice shaped in a heart cutter or a homemade loaf baked in a heart tin or melting chocolate heart-shaped cookies. You can even decorate with rose and primula petals for an extra romantic touch. The best part, they're edible flowers. Yes, that's right you can eat the cake and the decoration!
Valentine's Decorations for your living room
Continue the Valentine celebrations by transforming your living room into a sumptuous love nest – perfect for watching a good-feel movie. Cover your sofa with wonderfully squishy heart-shaped cushions to sink into and of course plenty of blankets to snuggle up under.

Make your own Valentine's Day bliss with some homemade bunting. You can easily create some by cutting pink and red hearts out of card (why not write a message of love on the back of them) and attach to some ribbon. The bunting will look perfect hanging over a wall of photos from your relationship. For a fantastic display either stick some photos on a large piece of card (you could even write a poem in the middle) or display in some sweet pink and red frames.
Valentine's Decorations for your bathroom
Valentine's Day is about feeling utterly spoilt, so why not transform your bathroom into a haven of paradise. Create the ultimate spa experience by dotting candles around the room - you can even get floating ones for the bath. For that extra decadent touch, why not sprinkle rose petals into the bath or have a go at creating your own rose bath salts. Have a look at our blog post which gives you tips on how to get the most out of your Valentine blooms.
Don't forget those little details - they'll make all the difference. Fold up some wonderful fluffy towels (you could get some red ones to go with the vibe) and of course that spa-ready gown. Finish with a basket of luxurious bath moisturisers and fragrance.
What could be better than getting all crafty on Valentine's Day? You'll have great fun making these themed ideas and then dotting them all over the home. Perfect for getting everyone in the right mood. If you're looking for other inspiration for crafts head over to our blog on how to make your own Valentine gifts.
Valentine's craft ideas for adults
If you think crafts are just for kids, you'd be wrong. Craft your own DIY Valentine's decorations and you will create something much more meaningful. You could even give one as a loving gift. I mean what could be better than an utterly unique, one-of-a-kind present - here are some simple ideas.
DIY Valentine's Tree
A decorated tree is not just for Christmas. This is the perfect time of year to create a beautifully simple but unique Valentine Tree. Get yourself a bunch of branches - you can even make a day of it by picking some up on a romantic walk - and remove any leaves. Lay on some newspaper and completely cover with white spray paint (you might need a couple of coats). When dried place in a jug of your choice.
Now make some decadent 3D hearts out of red and pink paper or card. Using scissors, cut out two hearts. Take one of the hearts and snip a line that goes from the top (where the heart shape dips) and stops at the centre point, do the same on the second but start from the bottom point. Slot together so they sit at right angles and form a 3D heart. Attach some colourful ribbon and then hang these beauties on your branches. You can finish the look off with some fairy lights, clip on birds, or even foil-wrapped chocolate hearts. Truly romantic.
Paper Flowers
Now we know Valentine's Day is all about a big bouquet of fresh flowers – who's going to say no to that? But another beautiful way to introduce some blooms is by making some paper flowers. It's a great way to show your love, plus they'll last for years!
You can make all sorts of flowers out of paper, from marigolds to roses or even sunflowers. You can also use your paper flowers as bunting for the living room, scatter a host over your dining table or use them to decorate a Valentine's Day gift. The choices are endless.

Crochet Cushions
If you're a bit nifty with your crafts and can turn your hand to crochet, why not have a go at creating a Valentine's cushion. They'll be perfect for your living room when creating your cosy movie night.
Go with the Valentine theme by creating a host of fluttering hearts in reds, pinks and gold. Or go with a design with your names.

Valentine's Wreath
You remember that fabulous wreath you hang on your door throughout December to celebrate the festive season? Well it's not just for Christmas, you can hang one all year round.
To make your very own Valentine's wreath you'll need a metal or wicker hoop (if you can get one in a heart shape, even better). Choose some blooms that last longer out of water – roses are ideal for this, but other options include chrysanthemum or lisianthus. Add in some gypsophilia, commonly known as baby's breath, which has an abundance of button-like flowers and will create a dreamy haze. Arrange your blooms and then fix to the frame using floral wire, either all around or in a section. A beautiful way to complete the look is by adding ribbon which you'll use to hang up the wreath.
Remember, the flowers aren't sitting in water so they will only stay looking gorgeous for a short time. To make a wreath that lasts longer you can also use dried flowers to keep the romance alive.

Valentine's craft ideas for kids
Valentine's Day shouldn't only be about romantic love. It's a great opportunity to celebrate and show your kids just how much you love them. What could be better than getting everyone together and making some Valentine themed crafts, from love heart bunting to Valentine biscuits. Here are a couple of ideas to get you started.
Handprint Card
Get messy and create some hand print cards. For this, cut out a heart shape (smaller than the palm of the hand) and lightly fix in the centre of the card. Paint your child's hand red (we did warn it would get messy) and then place on the card. Make sure you carefully line up the palm over the heart. Leave to dry and then remove the heart to reveal an incredibly cute design.
Another, simpler idea is to fold a piece of card in half – just make sure it's bigger than the child's hand. Place their hand on the card with the little finger closest to the folded part and then draw round. Cut out the shape and then open up to reveal two hands joined at the palm. Glue into the centre of your chosen card. Now cut out two heart shapes and fold in half. Glue one of the hearts into the centre on the hand shape. Then take the second heart and glue along the seam before placing on top of the first heart (it will stand up to give a 3D effect). Decorate and get the kids to write their Valentine messages.

Valentine's Treat Bags
Why not have a go at creating some gorgeous treat bags (perfect for both children and adults). Pick up some small cotton bags and create a fun design with some fabric pens or iron-on stencil. Alternatively, get some simple paper bags and using felt pens cover with an abundance of hearts.
Finish off with plenty of sparkles and some fabulous ribbon and, of course, the edible treats. Why not go for little packs of love heart sweets and heart-shaped chocolates and then present at your Valentine meal.