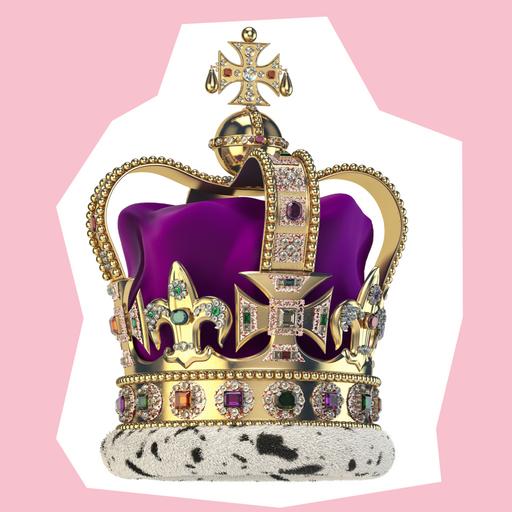 Coronation Party
Decoration Ideas
The first weekend in May is dedicated to celebrating the crowning of our new monarch, King Charles III. There are a lot of activities planned for the weekend, from the coronation service itself on the Saturday, to The Big Help Out on Monday where the new King and Queen Consort are encouraging people across the nation to get involved in volunteering. What's clear from all the plans is the importance of celebrating this historical weekend with friends, family and your local community. So grab your best tablecloths, choose your honoured guests and celebrate the King's Coronation in style!

Whether you are taking part in The Coronation Big Lunch or hosting your very own garden party fit for a King, your party decorations will help set the scene for your celebration. Take inspiration from the King himself and choose a selection of fresh British wildflowers to add a colourful pop to your tables – don't forget to include delphiniums, they are his favourite flower after all! Or maybe you could include a selection of the flowers featured in the coronation emblem? Whether that's taking inspiration from the national flowers included in the emblem, or keeping it traditional with a red, white and blue theme. Looking to be more sustainable like our very own King-to-be? Then paper flowers will be the perfect choice.
However you are planning to decorate your space, read on to explore how flowers can transform your coronation party decorations.
CORONATION STREET PARTY DECORATIONS

Flags, garlands and lights have been used to decorate the streets for centuries, in occasions of celebration, commiseration and an expression of feelings. Whether you're organising the Coronation Big Lunch for your street or you're simply a guest, brighten up the table with some fresh flowers.
As well as coronation themed table settings, such as Union Jack styled paper plates or napkins, you can introduce flowers as table decorations to bring the King's love of English gardens to your party. Wildflowers can make show-stopping centrepieces or delicate table posies, or you can get everyone involved by getting them to create their own celebration bunch. Order a selection of British blooms or ask your street to bring their own stems - think fragrant sprigs of lavender, rich delphiniums, English roses and scented stocks – and place them in piles along the table, then the street party guests can pick their favourites to create their very own coronation bouquet.
If your street is as long as The Mall, keep it simple with some paper flower bunting – record for the longest paperchain, anyone? Not only are they a more sustainable option, but they can be a keepsake for after the celebration weekend.

Sunshine (hopefully), the smell of summer flowers, and the quintessential British barbeque - a guaranteed recipe for a successful celebration. Why not step up your coronation garden party with some fabulously floral garden party decorations?
One of the easiest ways to make your coronation garden party memorable and #instagrammable is by creating your own flower wall. These scent-sational decorative walls will be the crowning glory of your party. With some advanced planning and a selection of fresh seasonal flowers and wildflowers, these stunning displays make a beautiful backdrop for an inviting table of cakes or for party guests to make picture-perfect memories.
You can achieve a similar effect on a smaller scale with DIY flower frames. Simply arrange flowers around a wooden or woven frame and your guests can use them as props for taking selfies and portraits. Pick flowers in purple and lilac hues to match the royal theme, or keep it tradition with red, white and blue. Want the get the kids involved? Then choose paper flowers or dried flowers which can be glued onto the frame (just like those pasta photo frames they proudly give you).
No coronation would be complete without a crown. Create a fun activity for your guests to get involved with by making their very own coronation flower crown. Not as heavy as the real thing (did you know the Crown Jewels weighs over 2kg!) but as impressive, here's some simple steps to create your very own flower crown:
Gather a selection of fresh cut flowers, a length of trailing foliage such as ivy, some florist wire and tape and a selection of decorations such as ribbons and jewels.
Measure around your head and cut a strip of florist wire to size, making a loop at one end and securing it with tape.
Using a pair of scissors, cut the stems of the flowers about 2 inches short, then a length of wire up the stem of the flower. Repeat until all the flowers are mounted on florist wire.
Cut a length of your chosen greenery or foliage to fit around you head. Wrap wire around one end and attach this to one end of the long wire you cut earlier. Leave the rest loose to weave around the design later.
Take the flowers and attach them in clusters to the wire headdress, alternating the colours as you work along the length. Once the flowers are in place, weave the greenery throughout the design, using it to fill any gaps. Trim any excess wire to prevent them jabbing your scalp!
Once all the flowers are attached, make a hook at the end of the wire with some flower tape – this will feed through the loop you created on the other end and will ensure the crown stays firmly attached!
For the final flourish, add some colourful ribbons or decorative jewels between the flowers on your crown. Now wear it like royalty!
CORONATION DECORATIONS FOR YOUR HOME

Whether you're forced to celebrate indoors thanks to the British summer weather, or celebrating in a smaller space, there's plenty of opportunities to jazz up your space with our indoor decorations ideas.
Add an extra floral flourish to your indoor space using flower table decorations. Gather fresh flowers to create stunning tablescapes and add fragrant summer bouquets to fill the room with colour. Choose flowers to fit the theme, like classic English roses, royal purple delphiniums, or British sunflowers. You can even preserve their petals to add a touch of elegance to your indoor decor.
Have a bit more time on your hands? Then wow your guests with a stunning flower cloud suspended above your dining table.
Everyone likes a party bag. Add mini bunches of lavender as party favours, or even miniature bags of wildflower seeds which they can plant in their own garden or window box. Top it up with a selection of goodies that represent the occasion – think cakes with royal icing, locally sourced pots of honey, a selection of afternoon tea delights, and miniature bottles of Pimm's. Celebrate the best of British produce and create a feast fit for a King.
EDIBLE FLOWER DECORATIONS

We know flowers look beautiful, but did you know that they can taste lovely too? Edible flowers are a great decoration to party food and drinks, adding them to themed cocktails and cakes.
Planning on gin cocktails? Consider including stems of lavender which will give the royal purple touch, while elderflower and rose petals can be easily dried and are popular botanical. You can even freeze flowers in ice moulds to put a creative spin on your refreshments.
As for cakes - roses, pansies and lilacs are popular choices, whether you intend to eat them or use them for decoration.
There are many ways to add an extra flair to your coronation decorations. Whether you're joining in the festivities with your family or the whole community, introduce some colour with fresh flower arrangements and celebrate the coronation of our new King.