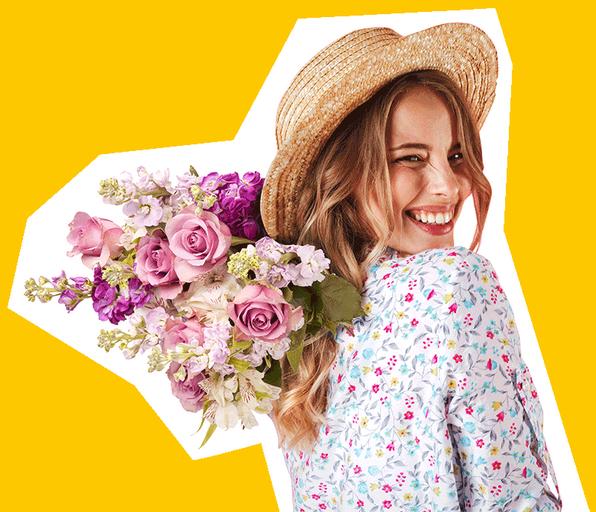 The Best of
British Flowers
One reason we're so lucky to live in Britain is that, as an island, we get to enjoy a mixed bag of weather and seasons. Ok, so we may not appreciate it quite so much when it starts raining on a summer's day, but it does mean we get to enjoy a magical and diverse mix of flowers each season.
There are certainly plenty of seasonal flowers you can choose from, and they'll deliver a riot of colours that brighten your day. From delicate snowdrops kicking off the year, followed by bright tulips, the ever-popular roses and cheerful sunflowers before finishing up with stunning chrysanthemums. Whatever the season, you're guaranteed to spread a little sunshine with a bouquet of British flowers.
BLOOMS OF THE MONTH
We pick the best of the seasonal bunch each month, including British stems, to create a bouquet which is guaranteed to bring some joy. From saying 'happy birthday' to 'congratulations', or just because you want to send some sunshine, our Blooms of the Month is a guaranteed mood-booster.
Why we love British flowers
We all love flowers, but when you add in the fact that the blooms sitting in your vase have come from the UK, it makes them a little bit extra special. When your flowers come from the local area they can be picked, packed and delivered to your vase incredibly quickly. That means you're getting blooms that are as fresh as possible. In the world of flowers, freshness equals more time for you to enjoy them in the vase – bonus!
It's not only about the quality of the flowers, buying local means you're supporting British businesses up and down the country. It is also far kinder to the environment - no lengthy travel miles for your UK blooms.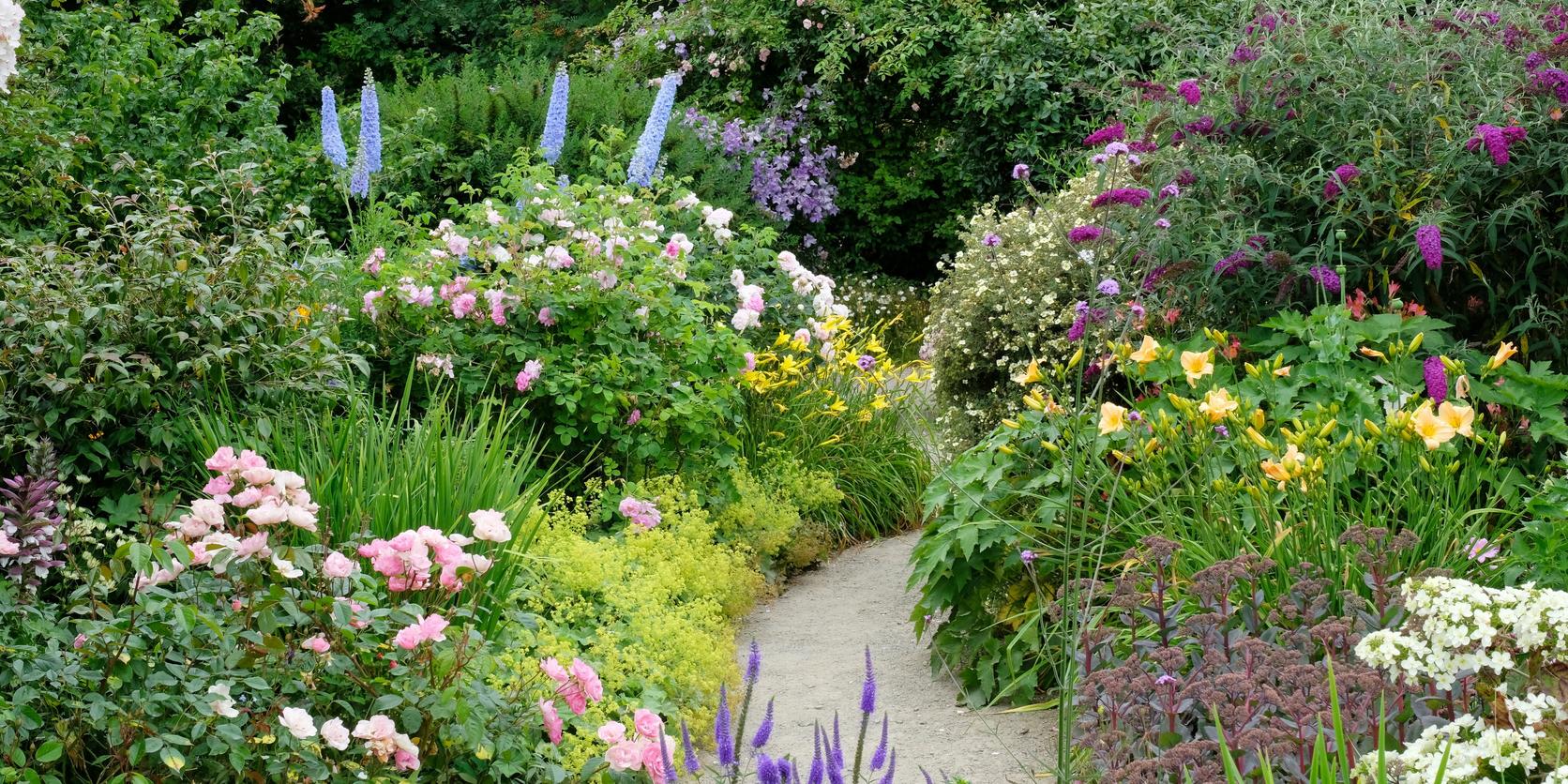 British spring flowers
Spring is all around and that can only mean one thing - more flowers are beginning to make an appearance. As they start peeking through the soil, it's a clear sign that warmer days (and hopefully a bit more sunshine) are on their way. Yippee!
Let's kick everything off with our old friend, daffodils. These cheerful flowers quite literally trumpet into March. Good job, considering they are the flower of Wales and must be ready to celebrate St David's Day on 1st of March! They certainly are a welcome sight to banish away the winter blues. Although most recognised for their distinctive trumpet-shaped heads you can also get this pretty flower in other varieties, from miniature versions to those with white petals and even double-flowered blooms that offer an abundance of overlapping petals.
Next to appear are the hyacinths. Looking for a real splash of colour, a stunning display and a gorgeous fragrance? You're in the right place. Get this flower in red or pink and they represent playful joy, go for purple and you're sending an apology while in white they stand for loveliness. Of course, we can't forget the traditional blue hyacinth. These mean constancy and commitment – a perfect gift for Mother's Day or to welcome a new baby. Be careful of the yellow ones though, they represent jealousy.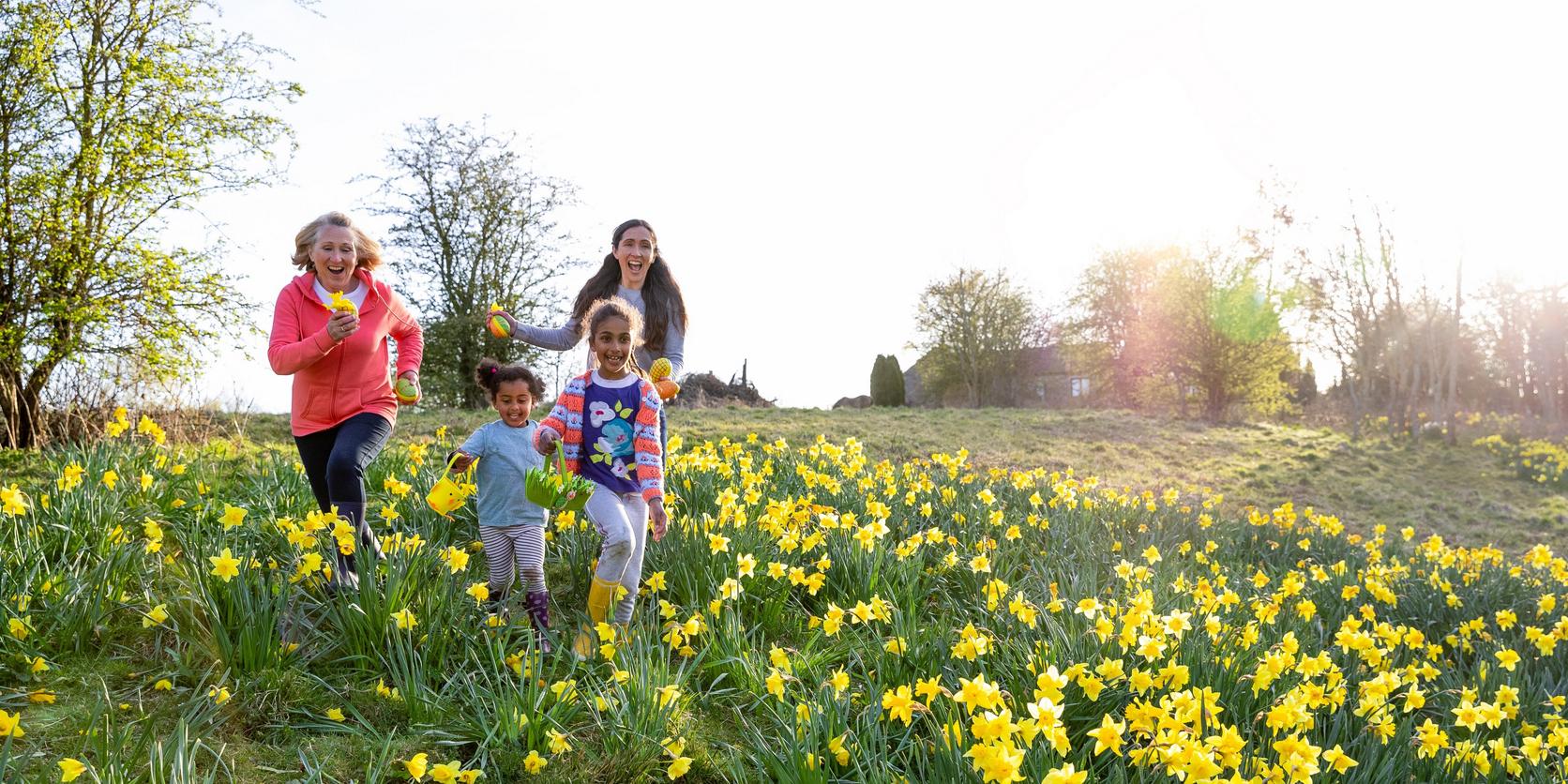 When Easter arrives, then it's time to tiptoe through the tulips. You really are spoilt for choice with these instantly recognisable flowers - there are over 3000 varieties! Go for red or yellow, every shade of pink you could imagine or even purple. If you want something unusual, you can also choose this flower in maroon, brown or even with petals that display a mix of colours. It doesn't stop at the colour either. Apart from the traditional, neat oval blooms, there are also double, fringed, scalloped or even open flower heads.
As May arrives, it's time for that supremely elegant flower, the iris. Refined and very regal (it has links to royalty), these flowers look amazing sitting in your vase. When it comes to this bloom, the colour choices are limited - it's mostly different shades of purple. This isn't a problem for the bees, they love this colour making it a great choice as our little friends appear in the spring. Don't worry if you do fancy a bit of variety, there are a few options in white, yellow, orange or red.
British summer flowers
Summer is, without a doubt, peak flower season. The days are warm, the sun is high in the sky and the flowers are happy.
Let's start off the season with a flower that crosses the border from spring to summer. Yep, we're talking about the eternal favourite – peonies. Not one to hang about, peonies are only in flower from May to June but what they lack in longevity, they certainly make up for in looks. This flower is stunning! So much so, the Chinese word for this plant is Sho Yu which means 'most beautiful.' With such a romantic appearance and a flower that stands for good luck, love and happy marriage. It's no wonder this is a big hit in bridal bouquets.
If you're looking for a flower with a bit more staying power, then the incredibly delicate alstroemeria is a perfect choice. Some varieties will happily flower all the way into autumn and, with their distinctive markings and bountiful colour choices, they certainly pack a punch. It is also said that the six petals on the flower represent different characteristics – understanding, humour, patience, empathy, effectiveness and respect. It's not surprising that this flower stands for friendship – these are the key characteristics you need in your friends. Why not give a bunch to your best pal.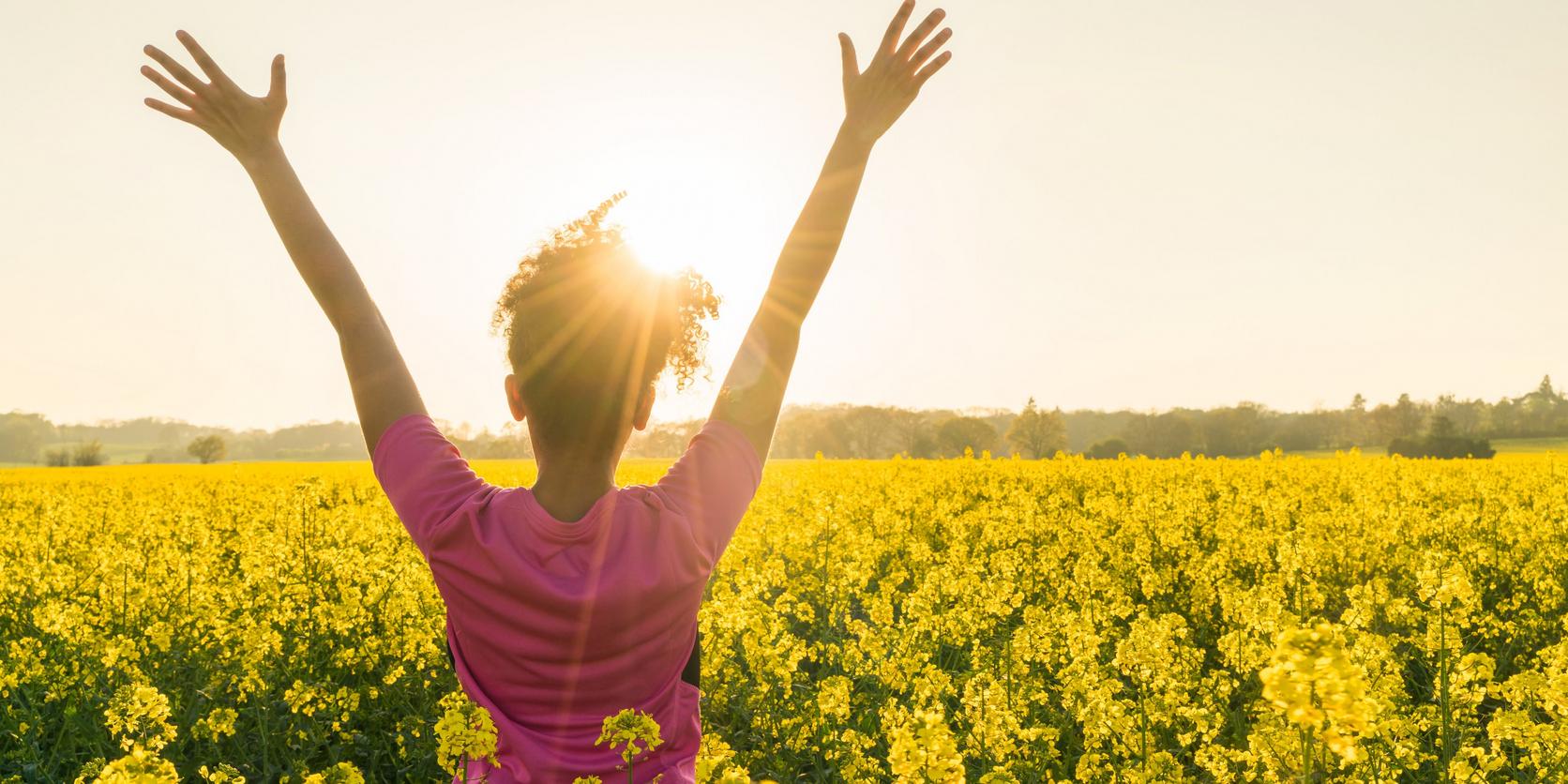 Bees are at their busiest in the summer months and luckily, we can reward them with the truly magnificent lavender. Let's just say that this flower is a magnet for our stripy friends. It's full of all the things they love – their favourite colour (purple), packed full of nectar and pollen, and smells amazing. If the bees are happy, then so are we.
We all love a rose. They are without doubt one of the most popular flowers in the world. This is especially true on Valentine's Day when it is estimated that around 250 million stems are sold! Roses have to be the perfect all-rounder. Most varieties are at their peak in the summer months, although it is possible (especially if the weather stays mild) to get flowers coming through into October. With over 30,000 varieties, you may find it tough to choose your favourite.
Delphiniums, with their tall stems and clusters of delicate flowers, are striking blooms to have in your vase. The name comes from the Ancient Greek word 'delphis' which means dolphin. If you squint the flower does look a little like one. Don't get confused if you also see it called larkspur – some believe the term was coined in Tudor England by the fact the flowers are shaped like a lark's claw. Oh, and they've also got the royal seal of approval – these flowers are a favourite of King Charles.
British winter flowers
As winter really takes hold, there are still some little bursts of colour to be found even on the darkest days.
One of these must be the eternally happy pansies. Their upturned flower heads deliver a joyful pop of colour, and their distinctive markings look a little like a face staring right back at you. Don't let their delicate demeanour fool you, these tough little flowers positively thrive in the colder months. Oh, and if you're feeling a bit peckish while out and about, you're in luck – the flowers are edible.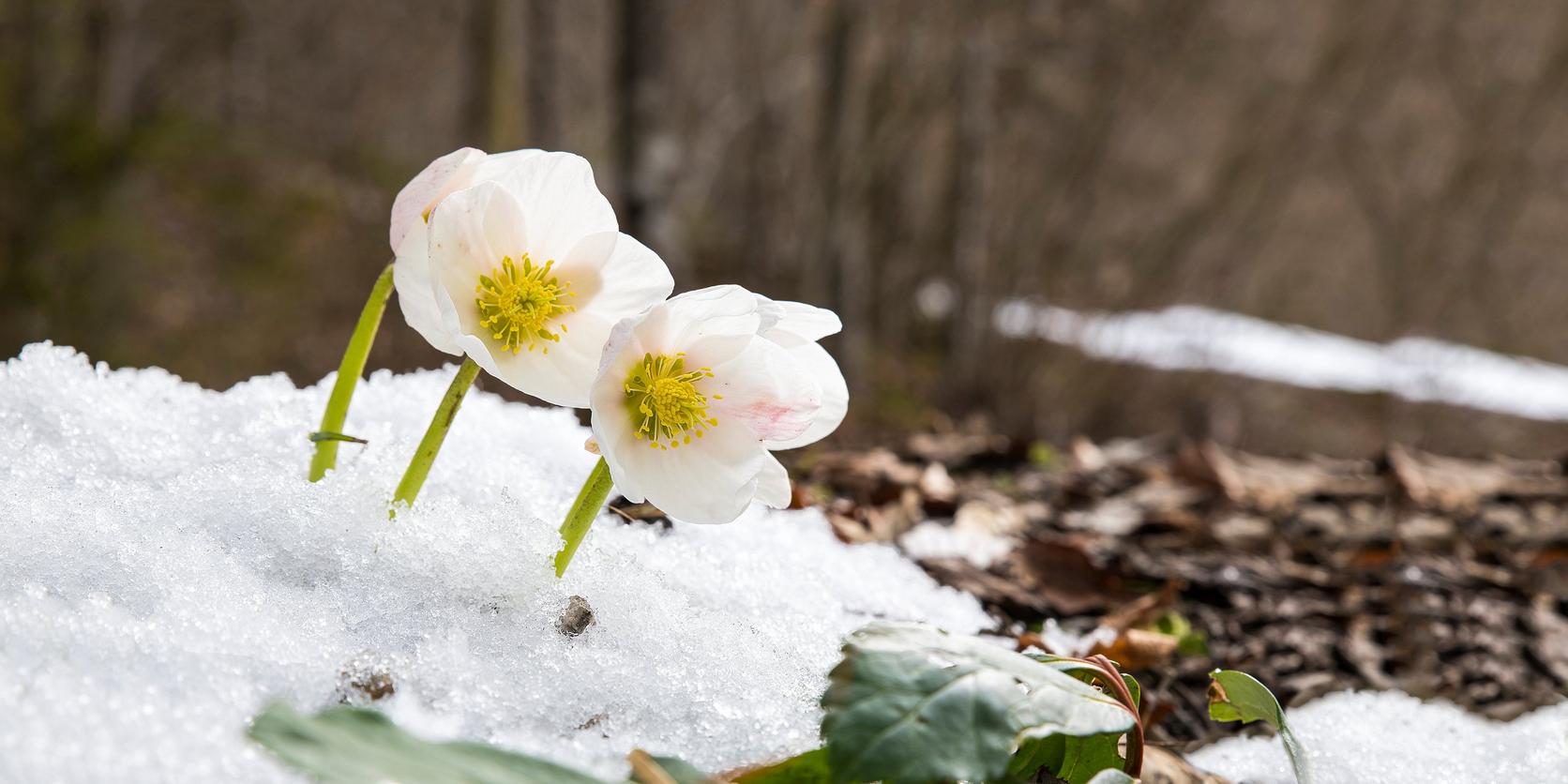 Next up is that quintessential British flower, the snowdrop. Or so we thought. This flower is actually native to Europe and the Middle East. No one quite knows when they first arrived on our shores but there are records from the 16th Century which reference the flower (although many believe they arrived much early). What we do know is that these delicate flowers start making an appearance when the New Year arrives. Not surprising then, that snowdrops are the birth month flowers for January.
As we get to the end of spring, hellebores start to appear to take us by the hand and lead us into the warmer spring months. These beautiful blooms are incredibly delicate looking with large, cup-shaped flowers. As if to get us ready for spring, these flowers deliver a gorgeous mix of mostly pastel colours (there are some in a maroon colour.) With their pollen-rich flowers, bees are absolutely in love with them - just what they need after their winter break.
Now you've had a round-up of our favourite British flowers, add a pop of colour to your home whatever the season and help support local growers.